My goodness!!! I would say that time flies so fast indeed! My son and i just barely got back here and now halloween is fast approaching. Last year we had so much fun trick or treating around the neighborhood especially my son because we went to hubby's workplace and played with some kids out there with different kinds of costumes. He got scared of some costumes though because he thought some are real and not make believe. I told him not to be scared for it is all pretend and not real. That was his second trick or treating, the first costumes he had was a little evil boy and he won first prize on that, it was funny because it wasn't really a planned halloween costumes, i just made it up, let him wore his red jacket and put his red blanket as his cape and painted his face with dark make up. And i was really happy when he won the contest.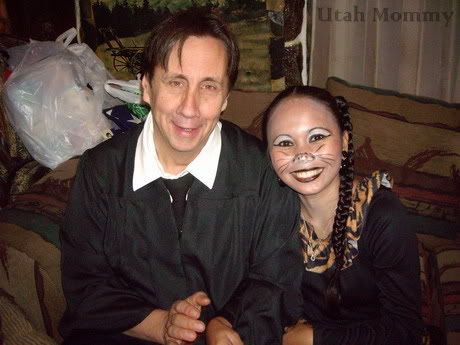 My husband's costumes is judge, mine is pussycat and our son is wearing elephant. And now i am thinking so hard what will be our
halloween costumes
this year. I still can't seem to find the best costumes that would fit perfectly for the three of us. I so love halloween here in America since we don't have this back where i was born and grew up. This is really fun thing for me to do and so as for my family. Getting our costumes ready this halloween is one of my priority this time since it's almost here. My son is so excited and so anxious to have his
halloween costumes
. Well, i better buy him now or it will be too late and i don't want my son to get upset with me though. How about you guys? Is your halloween costumes ready yet for trick or treating? Better get ready now!